Microgrid Design Made Simple
Our Microgrid Development Process Makes It Easy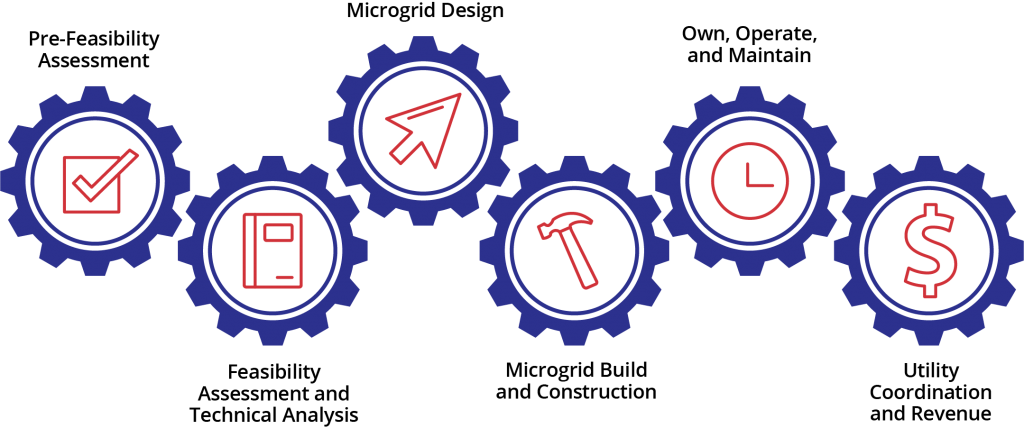 Microgrid design is made simple when you work with USA Microgrids. We can provide turnkey services for microgrid development at any phase of your project, with experts to help you determine which services are right for your business objectives.

Pre-Feasibility Assessment
USA Microgrids assess the goals and objectives for your
business such as energy costs, resiliency and reliability needs,
and green initiatives, helping you determine if a microgrid is
right for your site.

Our experts will review your site, interview stakeholders, and
perform an analysis of your energy use. We will use this
information to assess your options for a microgrid.

Feasibility Study and Technical Analysis
A Feasibility Study includes an in-depth review of the facility's
energy needs, site conditions, microgrid objectives, permitting
and regulatory issues, and other factors that can impact the
project. Experts propose technical design options such as types
of generation equipment, control systems, and energy efficiency
measures to optimize your microgrid.

The Feasibility Study produces a document with a financial
model, 30% design drawings, and an in-depth report of existing
constraints and challenges to ensure viability for your project.

Microgrid Design
USA Microgrids provides specialized microgrid design services
including fully engineered specifications and drawings, a
microgrid control system, and sequence of operations. The USA
Microgrids engineering team will work closely with your existing
engineering and/or EPC team.

Every microgrid project is unique. USA Microgrids collaborates
with the full design team to ensure your microgrid is successful.

Microgrid Build and Construction
USA Microgrids has extensive experience in all aspects in
the microgrid construction process.

We can serve as the project developer on behalf of the site
owner, making construction effortless. USA Microgrids can also
support the project by providing specialized microgrid expertise,
performing construction oversight, testing and commissioning
services, and other aspects of microgrid construction.

Own, Operate and Maintain
We can accommodate all types of ownership from USA
Microgrid-owned to the utilization of a third-party financier.

Regardless of the ownership model, USA Microgrids' System
Operations Center (SOC) is available to monitor and operate
microgrids to ensure they work appropriately.

Utility Coordination and Revenue
USA Microgrids can work with your Utility to determine if
your Microgrid assets can provide needed utility services. This
might include Utility services such as frequency response
support, regulation service, or capacity. In return for these
services you may be eligible for compensation or reimbursement.

USA Microgrids coordinates with your Utility to determine the
potential of your microgrid.
Our microgrid experts are here to help empower your energy.